Elder Care in Rancho Cordova CA
June is Adopt a Cat Month and for any senior who may be considering getting one of these small, furry animals, there may be a number of things they haven't yet considered about the responsibility associated with having a cat. If the senior is relying on any type of elder care at the moment, it's important that they sit down and talk to the caregiver directly about their thoughts and ideas regarding adopting a cat or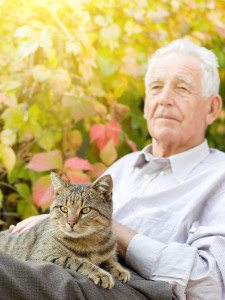 getting a kitten.
The caregiver should always be consulted.
Any caregiver, whether it's a family member or a professional elder care provider, should be consulted when the senior is interested in getting a pet. That caregiver may need to take some responsibility to help take care of the animal, including cleaning out the litter box, making sure the food bowls are full, and making sure the water bowl is clean and filled on a daily basis.
Cats can potentially get underfoot.
This is especially true for kittens. If a cat or kitten gets underfoot, it can cause a senior to lose his or her balance and take a serious fall, resulting in serious injuries. Some of those injuries could be broken bones, dislocated joints, broken hip, and more. That can lead to an extremely long recovery time afterward where they may no longer be able to take care of that pet.
If the senior has diminished strength and balance related issues, they may want to reconsider the prospect of having a cat in their home. There are visiting pet services that can bring various animals to senior's homes so they can pet them, spend time with them, and still gain the benefits of physical contact with a small animal without the dangers of getting tripped when walking around.
Leaving the cat alone.
What happens, or will happen, in the event the senior is hospitalized. Whether it's for scheduled surgery, a major health crisis, an accident that resulted in serious injuries, or anything else, the cat could ultimately be left alone for days and possibly even weeks. Make sure somebody, whether it's a friend or neighbor, is willing and able to take care of the animal until the senior is able to return home.
The more things a person thinks about with regard to pet ownership, the more likely they will make the right decision for themselves and that animal. Just because they might rely on elder care at the moment doesn't mean they shouldn't consider having a cat or other small animal as that can offer them companionship, help to reduce stress and anxiety, and maybe even lower blood pressure, according to some research studies.
If you or an aging loved one needs Elder Care in Rancho Cordova CA, remember Senior Home Care Services. Call us at (916) 514-7006 for more information.