Home Care in Lincoln CA
There are plenty of ways to welcome spring and rid your clients of cabin fever. For seniors who rely on home care,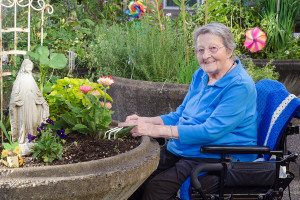 they may have an interest in doing certain activities to welcome in spring.  Below are five fun and safe activities for just about any elderly individual, whether they rely on an in home care provider, a family caregiver, or are able to manage their own basic care well enough right now.
Consider some of these activities because they are not only fun, but also safe.
1. Gardening. Getting outside, getting fresh air, and basking in the sun can all have positive benefits for people of all ages. The only way the body truly synthesizes vitamin D is through exposure to direct sunlight. Many seniors enjoy gardening, but if they feel as though they don't have the opportunity to do that because of their physical limitations, it might be something they don't consider anymore.  With the right support system, they can still garden in a safe and healthy manner.
2. Feeding the birds at the park.
Spending time at the park, either going for a walk or just sitting on a bench reading a book or even feeding the birds can be a great way to get exercise or fresh air.
3. Planning a barbecue. If the senior has friends or family in the area, they don't have to wait for summer to begin planning a barbecue get together with those people. Pay attention to the forecast and the first really nice, warm day, they can invite everyone over for some burgers and hot dogs, if they choose. They could also decide to grill chicken, fish, and even vegetables for a much healthier and more nutritious get together.
4. Visiting a museum. Now is the time to get out and enjoy them once again!
5. Go for a drive. Getting out and just going for a ride can change the scenery and provide a great emotional boost they may need right now.
If you or an aging loved one needs home care services near Lincoln, CA, remember Senior Home Care Services. Call us at (916) 514-7006 for more information.