Home Care Services in Roseville CA
Home care services are often hired to make sure that elderly individuals are safe and comfortable within their own home. They may be hired by family members, especially those who don't live relatively close to them. Relying on an in home care provider can be one of the best assets a senior can have to not just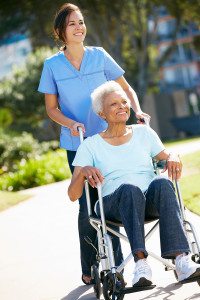 remain safe, but to remain active and involved in life.
Experienced home care aides can provide tremendous support systems for elderly individuals, whether they need help bathing, getting dressed, getting out of bed, doing laundry, and much more. They also help keep seniors safe within the comfort of their own home as well as if they had out for the day.
June is Great Outdoors Month and going to the park, heading out to an outdoor mall, going to an art fair, or anywhere else that is outside can be a lot of fun. It can also provide tremendous emotional benefits to somebody who spends the majority of the time inside, feeling isolated and alone.
That simple trip out for a few hours, though, comes with certain risk factors. Here are five steps that experienced home care aides may take to ensure safety for their elderly clients when heading out for the day.
Step #1: Paying attention to the weather forecast. Knowing the temperature that is forecast, any severe weather that may arise later on, and other factors help to keep people safe, especially those seniors who may have difficulty getting around quickly and effectively.
Step #2: Dressing appropriately. In the summer, it may seem more practical to just wear shorts or light layers of clothing, but the morning and evening hours can get quite cool in some areas. Dressing appropriately and bringing extra layers of clothing will help to ensure the senior remains warm, regardless of how long they stay out and what the temperature dips down to in the evening.
Step #3: Offering them support when needed. Getting out of the car can pose a challenge to somebody, and that's where experienced caregivers focus their energy; helping the senior get out of the car safely and wherever else they need support.
Step #4: Protection from the sun. The caregiver could encourage the senior to wear a large brimmed hat, wear wraparound sunglasses, and use sunscreen to keep them safe when they're going to be exposed to direct, intense sunlight for a significant amount of time.
Step #5: Having a plan in place. Knowing when they're going out and when they expect to return can offer comfort to the senior, and it can also help the caregiver stay on track throughout the day. That's one of the best ways to encourage a safe outing.
If you or an aging loved one needs home care services near Roseville, CA, remember Senior Home Care Services. Call us at (916) 514-7006 for more information.