The holidays can be a challenge for anyone, but they are especially challenging for a family caregiver. During this holiday season, about 65 million people will be trying to balance their caregiving responsibilities with work, family, and holiday planning.
Here are some things to keep in mind when planning for the holidays:
Be Clear About Your Plans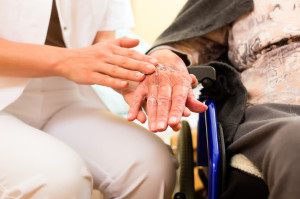 Trying to fit everything and everyone in can make for a very stressful holiday season. Be realistic about your time frame when making decisions. Decide early on about what you want to do and what you don't want to do and stick to your plans. There is no need to feel guilty about saying no to plans or invitations that will put a burden on your already hectic schedule.
Don't be Afraid to Ask for Help when You Need It
You may feel like you are burdening others, but we all can use a helping hand sometimes. Whether it is someone to talk to or someone to run an errand, you will be surprised by how helpful people can be when they feel useful. It's a good feeling for them to know they were able to lend a hand.
Prepare Your Loved One for Anything Outside of Their Normal Routine
Share your plans with loved ones a few weeks in advance about holiday parties to avoid meltdowns. Talk to them about what to expect and the people who will be there. If you have photos of those attending the party, then this will help them identify faces they will see.
Be Willing to Create New Traditions
You may find that in the midst of juggling care for a loved one and getting ready for the holidays, that you just don't have time for the old traditions. Instead of adding the pressure of trying to fulfill those old traditions, create new ones or mix some old traditions with some new ones.
Have a Backup Caregiver Available
Instead of cancelling your plans because your loved one may find certain events or crowds too noisy and overwhelming, have a backup plan with a friend, neighbor, or another family member. Arrange for them to spend the evening doing an activity that your loved one enjoys, whether it's a craft project or just watching a favorite movie. This allows for a special evening all around.
The important thing is to remember that you can only do what you can do. Take time to enjoy the spirit of the holiday by surrounding yourself with those you love. If being a caregiver is too much, ask for help. You might be surprised by how well that works.
If you or an aging loved one needs caregiver services in the Elk Grove, CA area; remember there is "Senior Home Care Services" for all services needed. Call us at (916) 514-7006 for more information.