Elder Care in Carmichael CA
We're now into June and the sun shines brightest and hottest during the months of June, July and August, with some rare exceptions. So it's no wonder that June is officially recognized as Cancer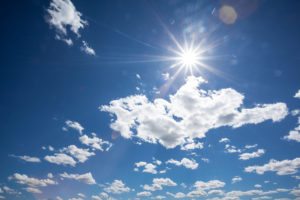 from the Sun month. It's a time when awareness is drawn to the sun's harshness and the toll it can take on a person, especially as they age.
Besides the fact that too much sun in one's lifetime can make their skin look weathered and leathery, one in five Americans will get skin cancer in their lifetime, and one person dies from melanoma—the deadliest form of skin cancer—every hour, with the average age of being diagnosed being 61. As people age, their risk of getting skin cancer increases with every year.
If you're providing elder care for someone in your family, or another senior, this is a great time to not only review those statistics with them, but tell them what they can do to keep safe from the sun's punishing rays.
Ask their doctor or dermatologist what the best sunscreen for their skin type and health history is. This is especially important if there's been any past diagnosis of skin cancer, or skin allergies.
If spending any time longer than 15 minutes outside they should wear sunscreen on any part of their body exposed to the sun and its rays (even when cloudy). Loose-fitting light-colored clothing, a wide-brimmed hat and dark sunglasses to protect their eyes, are also recommended.
Wait 30 minutes after applying sunscreen to go outdoors and reapply it every two hours if swimming or sweating excessively. There are water-resistant sunscreens designed for these situations, but follow the directions for re-application.
A sunscreen with a sun protection factor (SPF) of 30 or more is preferable, unless the person's doctor recommends something different. Lip balm with an SPF of 30 or more is also encouraged.
Choose a sunscreen that is easy to apply. Some can be applied with sunscreen towelettes. There are also sunscreens that come in powder. Stick, or gel form, all of which are easy to apply.
Make sure to cover every exposed area of skin with sunscreen, including balding spots.
If driving or riding in a car, consider window shades or car window tints.
UV rays can tan and burn a person's skin even on cloudy days during summer months. So wearing sunscreen and protective clothing are important for your parent on cloudy days, too.
It's smart to do monthly head-to-toe self-examination of one's skin. If new or changing spots or lesions are found, they should be examined by a doctor. A doctor can also do a full-body exam so your parent is assured whether any spots they already have are normal and nothing to worry about. They can then be re-examined over time to make sure they're not changing. If they are, they can be treated.
If you or an aging loved one needs

elder care in Carmichael, CA,

remember Senior Home Care Services. Call us at (916) 514-7006 for more information.
Source:  www.skincancer.org