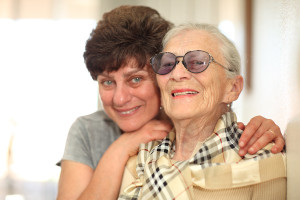 It is difficult, even when you're an adult, to face the fact that your parents may need elder care. Even so, the best thing to do is to ask your parents questions to find out their wants, likes, dislikes and preferences on issues concerning what they would prefer in elder care when it's needed.
Sit down over lunch or a cup of tea and gently start the discussion. Tell your parents you have some concerns you would like to talk to them about. Mention you would like their input and then see if they need any assistance in any of their daily living activities. For instance, ask if their home is still appropriate for them now that they are aging. Can they manage the stairs safely? Or would a one floor home be a better option? Ask if they have any safety concerns and if modifications would make it more convenient and safer for them. Find out if they always hear if someone knocks on the door or if the telephone rings? Do they need help with yard work, household chores or meal preparation? Explain if they do need help with chores, either family members could help or elder care services could be hired for anything they are having difficulty handling.
Next, ask your parents some important health questions. Inquire what health problems they have and if the prescriptions to treat those issues are current. Ask if the pharmacist or doctor has reviewed the medications for side effects and dangerous drug interactions. Find out if they remember to take the medication on time and in the correct dosage. Do they need help remembering to take their medication then? Also are they having trouble paying for any medications? If so, you can offer to help pay for it if you can afford it if that is desirable to you.
Talk to your parents next about their health care insurance. Find out what kind of health care they have and if the plan has paid all their health care bills. Also, do they have life insurance or long term care insurance? Have they been able to keep up with the premiums? If they do have insurance forms to fill out, do they need help filling them out? Do they have any questions about their health insurance you could help get answers for too?
The touchiest questions are about finances. No one likes to talk about money, and you may feel a little funny asking, but it is important to know how they're finances work. Inquire if they have any bills they are having difficulty paying. Find out what their current and possibly future bills may be. See if they need to talk to a financial advisor to make what money they may have last. Ask them if all their important financial papers are in one place in case of an emergency. Finally, ask if they have a will, a living will and a health care proxy.
Asking all these questions may seem to be putting yourself where you think you don't belong, but that isn't true. Elder care is about making sure your parents are protected completely and your parents will thank you for caring.
If you or an aging loved one needs elder care in the Sacramento, CA area, remember Senior Home Care Services for all services needed. Call us at (916) 514-7006 for more information.