Caregiver in Lincoln, CA – Four Art Projects For Your Elder
Working on projects is a great way to add structure to your elder's day and keep their minds active and busy. As a result, mental health, memory and general wellbeing stay in tact. However, some seniors aren't as interested in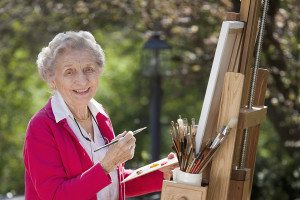 projects that demand physical work. If your elder isn't very outdoorsy and doesn't appreciate the likes of gardening or woodcarving, don't worry. There are plenty of other options for them to pursue. One fantastic and stimulating realm for your senior to explore is art.
Artistic activities, such as sketching and painting, are not only projects that can take some dedication and time to complete, but they are also mediums for a senior citizen to express creativity and ideas. Some seniors have a difficult time communicating even if they have lots to say. In some of those cases, an illustration or picture can help them say everything that they want to. Here are a few art ideas that your senior can take up easily:
·        Painting: Many seniors find ultimate relaxation in standing at a canvas and using one-stroke techniques to create a sunset, a landscape, or a bowl of fruit. Painting is a fun and colorful way for seniors to pass the time.
·        Sketching: If your senior doesn't wish to ruin any clothing or use time setting up an easel, sketching is a much quicker way to create images. All they need is some pencils, a sketchpad, and they can get to work effortlessly.
·        Clay Sculpting: Your senior can either take a class on clay sculpting or simply have a crack at it on their own intuition. If a senior has limited hand or finger motions and experience a difficult time painting or writing, clay sculpting is a fitting activity as they can just use their entire hand to create vases, bowls, or decorations.
·        Photography: Photography may not involve sculpting images or shapes with the hands, but it is a skill that requires an ability to look at scene and capture it. Photography gives seniors a chance to explore beauty in common objects and experiment with camera and lighting settings on their subjects.
With any of these hobbies, your elder may need a hand getting started. An experienced in-home caregiver can set your elder up with the resources he or she needs and encourage him or her to get the creative juices flowing.
If you or an aging loved one needs caregiver services near Lincoln, CA, remember Senior Home Care Services. Call us at (916) 514-7006 for more information.