Home Care in Lincoln CA
November is Home Care and Hospice Month, the perfect opportunity for you to take the steps to get started on a care relationship for your elderly loved ones. This month long observation is a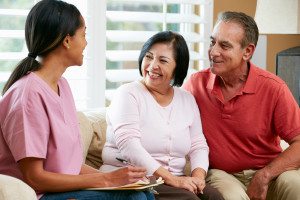 great chance for you to find out more about home care and the different options for care within this community, learn about hospice and how planning for it now can benefit your parents' care for the rest of their lives, and get in touch with the elder care agency in your area to take those first, important steps toward establishing a care relationship that will enhance your parents' quality of life.
Use these tips to get started on a care relationship for your aging loved ones during Home Care and Hospice Month:
• Evaluate their needs. Take the time this month to honestly and openly evaluate your parents' needs so that you can prepare yourself for starting the type of care relationship that is right for them. Make sure that you clearly understand what challenges they face on a regular basis, what type of assistance is available to them, and their personal opinions on care so that together you can make the choice that is right for them as individuals.
• Contact the care agency. If you are not familiar with the care options available to your aging loved ones, or would just like more information in order to make the decision that is right for them, do not hesitate to get in touch with the elder care agency in your area to discuss your parents' needs, evaluate the options available to them, and get answers to your questions. This month is a popular time for health fairs and other events, so be sure to find out about any events that may be happening in your area so you can attend and learn more.
• Have a trial run. If your parents are unsure of whether they need home care, or you cannot agree to how much would be right for their needs, consider having a "trial run" with an in home health care services providers. This allows your parents to experience having care and determine how much they think would be beneficial while still encouraging them to maintain as much independence as possible. At the end of the trial run, take some time to talk with your parents about the experience, get their opinions on continuing care, and make plans for the care arrangement ideal for them.
• Discuss hospice. You might not want to think about the end of your parents' lives, but ignoring that eventuality can only lead to confusion later. Discuss your parents' opinions about end-of-life care, including hospice, early so that you can all feel confident that you have made the proper arrangements and are ready to take the steps necessary when the time comes.
Get in touch with the elder care agency in your area to discuss hiring an in home health care services provider to enhance your aging loved ones' lives with a personalized care plan.
If you or an aging loved one needs home care services near Lincoln, CA, remember Senior Home Care Services. Call us at (916) 514-7006 for more information.