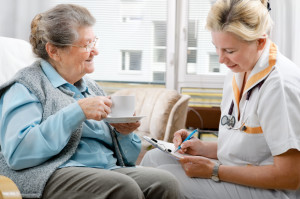 As our parents and grandparents age, they strive to stay in their homes as long as they can. Some of our aging family members have been in their homes for decades or longer. Along with many years in their home, comes years of collecting memories, gifts, and just stuff that we all accumulate over the years. Helping our senior loved ones get organized and de-cluttered can be a subject that is touchy, however, a home care companion can he hired to come into the home and help with the task. Having an outsider approach the situation might be easier for your senior loved one to handle.
Getting closets, drawers, cabinets, garages, attics, and other areas of the home organized can give a senior a refreshed feeling; not to mention, cleaning out clutter can make for a safer home for your loved one. Having excess papers, furniture, or other materials around the home can be a fire hazard. As well as keeping our loved ones safe in their home, getting organized will also help them maintain a healthy environment and lifestyle.
When it is difficult for seniors to part with some of their unused belongings, family members or a home care companion can encourage them that they can donate the items to a shelter or local thrift store where they can be of use to someone in need. This is sure to help them feel better about parting with their unused items.
The following are some areas that a home care companion can help your senior loved one begin the organizational process:
Kitchen – The kitchen can sometimes get cluttered with pans, dishes, or small appliances that never get used. Your senior family member and a home care companion can go through each cabinet and drawer in the kitchen and rid of the things that aren't used. Cabinets should be organized so that seniors are able to easily reach the items that are used most often. This can prevent your loved one from having to use a step stool to get items that are out of reach, and therefore, preventing falls.
Closets – Closets can become a popular place to put things that aren't being used. Going through closets can rid of a lot of unnecessary items; again, these items don't have to be thrown away, they can be donated to a local charity or thrift store. Plastic bins are a good way to store items that need to be kept on closet shelves. This not only keeps things organized, but also will make it easier for you senior loved one to safely access them. Clothing and coats can be organized according to season and can be rotated as needed.
Garage and Attic – Garages and attics are another place where unused things can pile up. Putting up shelving in garages is a good way to organize needed items. Garage floors should be clear of clutter to avoid tripping and falling. Things in an attic can be organized and labeled in plastic bins for easy access.
Tackling one room per week is a good way to get organized in a month or two. There are several ways to rid of unneeded items, such as donating them or having a yard sale. A home care companion can help with getting your loved one organized, which will leave them feeling good and satisfied with their newly-organized home.
If you or an aging loved one needs home care services in the Carmichael, CA area, remember Senior Home Care Services for all services needed. Call us at (916) 514-7006 for more information.