Home Care in Carmichael CA
Also known as hypertension, high blood pressure is a very common health problem and one that affects about one-third of people who may or may not be aware of it. The best way to ensure your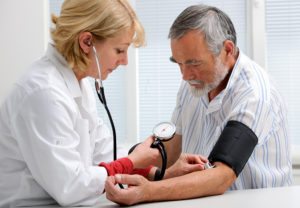 aging parent manages their blood pressure, it is important that it is checked annually during their doctor's appointments. It is equally as important that your loved one have a family member or home care provider help them make healthy choices for their high blood pressure. Here is some information that will give you and your elderly parent a better understanding of hypertension.
Symptoms
If you notice any of the following symptoms in your elderly parent, have them talk to their doctor as soon as possible.
Becoming fatigued or confused
Developing a severe headache
Problems with eyesight
Chest pain
Problems breathing
Irregular heartbeat
Urine contains blood
The chest is pounding in the neck, ears, and chest
Diagnoses
Discovering that the elder has high blood pressure can be extremely difficult because many of the symptoms  are either misdiagnosed for another health problem or the elder is unable to tell they have this condition at all. There are a couple tests that can be done to test for high blood pressure, such as:
Diastolic blood pressure: The lowest pressure between heartbeats
Systolic blood pressure: Maximum pressure during a heartbeat
If the doctor does diagnose your parent with high blood pressure, other tests they may want to run include:
Echocardiogram: Ultrasound waves are used to provide pictures of the heart valves and chambers pumping.
Electrocardiogram: Measures the electrical activity, rate, and rhythm of the heartbeat through electrodes that are attached to the legs, arms, and chest.
Treatment
Treating high blood pressure takes a combination of healthy lifestyle choices and medication. Some of these lifestyle choices include:
Maintaining a healthy weight or losing weight for those who are overweight or obese
Quitting smoking
Eating a healthy diet that includes plenty of fruits, vegetables, and low-fat dairy products
Limiting sodium intake to 1,500 mg for seniors with high blood pressure and 2,300 mg for those with a healthy blood pressure
Try to get at least 30 minutes of aerobic exercise per day
Limit alcohol intake to one drink a day for women and two for men
Those seniors who are living with high blood pressure may be able to get rid of their condition altogether by following these simple steps.
If you or an aging loved one needs home care in Carmichael, CA, remember Senior Home Care Services. Call us at (916) 514-7006 for more information.
Source:  http://www.webmd.com/hypertension-high-blood-pressure/guide/hypertension-symptoms-high-blood-pressure