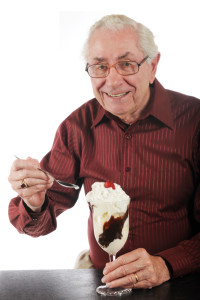 It isn't hard to get addicted to sugar; it's added to everything these days. The difficult part is recognizing a sugar addiction and going through the steps needed to break it. Sugar in excess can cause quite a few health problems including weight gain, elevated blood sugar levels, heart disease and more.
High amounts of sugar are not part of a healthy eating plan. If you have been consuming large amounts of it as a way to gain energy because you feel tired all the time, it's time to break the cycle. Eating a healthy diet of whole grains, high quality protein and fruits and vegetables combined with getting adequate sleep will do more to renew your energy levels than eating sugar will.
If you are simply exhausted because of caregiving combined with all the other things you need to do, then maybe you would like to try an in-home care service to take over for you a few days a week. Will that make a big difference in your life? To be able to have some time to catch up on things?
Now, to break the sugar addiction:
Discover where sugar is hiding in your diet. Where is it lurking in your food? The USDA has a helpful resource that lists all the names sugar is called on the ingredients list of food. You can find it on their website. Some of the other names for sugar include barley malt, cane juice, corn syrup, high fructose corn syrup (HFCS), fructose, golden syrup, lactose, maltose, sorghum syrup, sucrose and many more.
Fruit has natural fruit sugar but fruits canned in syrup have added refined sugar. Whole foods like fruit when eaten raw are healthy, or choose canned fruit in water or in fruit juice.
Stock your kitchen with delicious sugar-free foods. Use more whole fresh foods than processed ones (avoid canned, boxed, packaged foods). If you are used to drinking sugary liquids, switch to lemon water right away. That will drastically cut down on the amount of sugar your body has to deal with.
Never shop on an empty stomach. Not only will you tend to buy "comfort" foods which are traditionally unhealthy, you will also overspend.
Plan your meals ahead so you're not left wondering what you are going to eat for the next meal. That's where a sugary snack will tempt you the most.
Set a goal. Go for two weeks without cheating and see how much better you'll feel! It will be difficult for the first few days as you are just getting used to the changes. After a couple of weeks, you won't feel those strong cravings anymore and you can start a new low-sugar way of eating for a healthy rest of your life.
Whether you are a caregiver dealing with an addiction to the energy refined sugars provide, or a senior needing to limit the amount of sugar you're consuming, these tips should help you make a step in the right direction. Your in-home care provider can help you stay on track to reduce the amount of sugar you consume.
If you or an aging loved one needs home care in Davis, CA area, remember Senior Home Care Services for all services needed. Call us at (916) 514-7006 for more information.