Home Care in Lincoln CA
It's summertime! As families gather outside for picnics, family reunions, holiday cookouts, or just some old-fashioned fun in the sun, seniors need to be proactive with protecting themselves from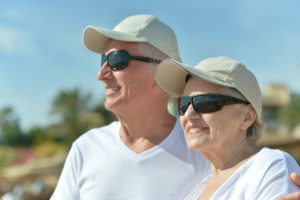 the sun's harmful rays. Some outdoor activities may require closer and more frequent attention to sun protection than others. And whether someone is eight or 80 protection from the sun's rays is important, but it becomes more so as people age because older skin is more susceptible to damage from UV rays.
July is UV Safety Month, but anytime is a good time to learn about good habits to practice when spending time in the sun and how to best protect themselves. As the family member providing home care for a loved one, here are some tips that can help you both.
Stay inside during peak sunlight hours. The American Academy of Dermatology says the sun's rays are strongest between 10 am and 2 pm, though some advise caution between 10 am and 4 pm, even 6 pm. Take special care to either stay inside or in a shaded area during these hours.
Use sunscreen whenever going outside for more than 15 minutes at a time. Even being exposed to the sun's rays while riding in a car for longer than 15 minutes could be harmful. The American Academy of Dermatology recommends using sunscreen of SPF 30 on any exposed skin every day, whether you'll be inside or out. It's also important to note that sunscreens with an SPF lower than 15 must now include a warning on the label stating that the product has been shown only to help prevent sunburn, not skin cancer or early skin aging.
Apply sunscreen to every exposed part of the body 30 minutes before going into the sun. Reapply every two hours if swimming or sweating excessively.
On the subject of sunscreens, the Federal Occupational Health department (FOH) says when picking sunscreen, don't pick them based on their using terms like "sunblock," "waterproof," or "sweatproof," as those words don't address the functioning capability of the product. For a sunscreen to truly be recognized as capable of blocking all sun-related damage it must be labeled as "Broad Spectrum SPF 15" or higher. SPF 15 is the minimum as established by the FDA, but SPF 30 or higher is what's generally recommended.
All skin tones are at risk for developing sun-related damage. Those with a lighter pigmentation may have a greater risk of developing melanoma, but no complexion or pigmentation is fully protected from the sun.
Wear protective clothing outdoors. Loose, lightweight, light-colored long pants and long sleeved shirts are ideal sun protection garb for older adults. Clothing should have a tight weave so sun can't get through. A wide-brimmed hat or cap, and dark, UV-blocking sunglasses should also be worn.
Use moisturizer. As skin ages, it becomes more prone to dryness, which can be made worse by sun damage. Keep skin moist with a lotion or cream to help protect it.
If you or an aging loved one needs

home care in Lincoln, CA

, remember Senior Home Care Services. Call us at (916) 514-7006 for more information.
Sources: www.skincancer.org