Stepping into the world of home care services and trying to determine just what they do, what they can offer for an elderly loved one, and what their responsibilities are can be a challenge, no matter how you are. Most of us don't tend to look into in home health care services for a loved one until they need that level of care.
By then, you may be feeling the time constraints to actually find the right level of care and the perfect provider that will get along well with your loved one and be trustworthy enough with their care. When that happens, some people neglect taking the time to fully understand what the responsibilities are of home care services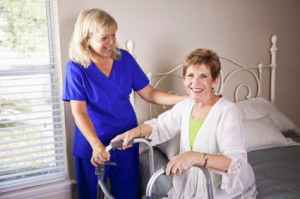 professionals.
Each agency and provider will be different. A home health aide, for example, may have a few different responsibilities than a nurse, but for the most part, many of the responsibilities of these individuals will be relatively similar.
Home care services will monitor the elderly patient, both their physical as well as mental condition.
The in home care provider may be required to assist with exercises or in home physical therapy.
They might be required to assist with basic personal care needs, such as bathing, getting dressed, and grooming. They could also be required to help out with some more intimate needs, such as going to the bathroom.
The in home care provider may be asked to keep a medical journal for the patient, tracking their health, vital statistics, and other information, including medication that they take or refuse to take, or forgot to take at any given time.
These providers will need to ensure that the environment in which the elderly individual lives is safe at all times, not only for the patient, but for themselves and anyone who comes to visit.
Home care services may be asked to teach patients how to use a cane or walker in the most effective manner for their physical condition. If the patient needs special utensils or other devices that they haven't used before, the in home care provider will instruct them on how to use them best.
These individuals will also instruct family members on how to care for their loved one, which could include proper wheelchair operation, lifting techniques, positioning the individual, and more.
Home care services may also be responsible for assisting the patient with basic cooking, cleaning, laundry, and other basic necessities.
If you have any questions about what home care services will provide for your loved one, be sure to ask questions in the beginning, before you hire them.
If you or an aging loved one needs home care services in the Roseville, CA area; remember there is "Senior Home Care Services" for all services needed. Call us at (916) 514-7006 for more information.