Senior Care in Fair Oaks CA
Thanksgiving is just weeks away which means that you are likely deep in planning meals, overnight guests, and even shopping sprees. As you are getting ready for the holiday, however, make sure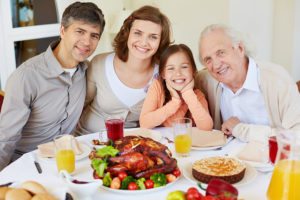 that you are taking the time to plan ways that you can show your thanks on this holiday. In your role as a family caregiver, this can be one of the most meaningful and memorable elements of your care journey.
Try some of these meaning ways to show thanks on Thanksgiving and get inspired for your own ways to celebrate this holiday in a way that you can treasure for years to come:
Make a thankfulness tree centerpiece. Create a craft with your family that both starts meaningful conversations and acts as a centerpiece for your feast table. Start by purchasing a miniature table tree with bare branches and spray painting it gold. Cut leaf shapes out of brown, yellow, red, and orange construction paper and put them out with pens or markers. Encourage guests to write out what they are thankful for on the leaves and hang them on the tree. You can then read them out and discuss them before dinner.
Make thankfulness turkeys. An ideal craft for your aging parent to do with younger members of the family as a way to spend quality holiday time with them, thankfulness turkeys make adorable decorations that you can bring out year after year. Purchase art canvases from the local craft store and give one to each member of the family, or purchase a large one that everyone can work on together. Coat one hand lightly with paint, covering the palm and thumb with brown, and the fingers with alternating red, orange, and yellow. Press this hand directly down onto the canvas and then lift straight up. Use red and orange paint to add a beak and other features to the head, and black paint to add eyes and feet. Allow the handprint to dry completely and then use an acid-free pen to write things that you are thankful for on each feather. Be sure to add the person's name and date beneath the turkey so that you can remember them for years in the future.
Create a family gratitude journal. Purchase a good-quality journal and acid-free pens that you can use as a journal. Label the first page "Thanksgiving Gratitude Journal" with the year and your family's name. Encourage each member of the family to write an entry about what they are thankful for. Make sure that they add their name and that each person uses their own page so that you can look back through it on future holidays and reminisce about your family and the things for which you are all grateful.
Starting senior care for your aging loved one is a wonderful way to help them maintain a healthier, more active, and more engaged lifestyle as they age in place. A senior home care services provider can be with your aging loved one on a customized schedule that takes into consideration not just their individual needs, challenges, and limitations, but also their thoughts, opinions, goals, and lifestyle. This means that they are able to live a lifestyle that is fulfilling, active, and as independent as possible while also keeping them safe, healthy, and comfortable throughout their later years. When it comes to activities that will keep their mind engaged and their mental and emotional health high, this care provider can help your parent find activities that they enjoy and do them with them, offering them both the stimulation and entertainment of the activity itself, as well as the social interaction that comes from their companionship.
If you or an aging loved one needs

senior care in Fair Oaks, CA

, remember Senior Home Care Services. Call us at (916) 514-7006 for more information.