Senior Care in Granite Bay CA
It is difficult to think about your aging loved one ever needing help handling basic daily needs. Not recognizing that your parent needs senior care, however, can leave her with unmet needs and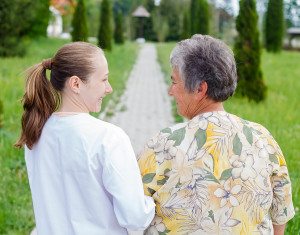 even threaten her health, well-being, and safety as she ages in place. Unfortunately, not all of the signs that an aging adult is in need of support and assistance are as obvious as you might think they would be. It is these often subtle signs that may be the first indication that your parent is in need of help. Unfortunately, they can be easy to miss. You may not realize that the problems exist until they escalate to something serious. It is also easy to just overlook them because even if you do notice them, habit and instinct cause you to fix them immediately rather than really taking note of them.
The signs that your parent needs help could indicate that she is dealing with physical, cognitive, or other limitations that could put her at serious risk. The earlier that you are able to recognize signs that your parent needs help, the better able you will be to address those needs effectively.
Some of the more subtle signs that your aging loved one may be in need of senior care include:
Expired or spoiled food in the refrigerator or sitting out on the counter that has not been thrown away, particularly if you have noticed it more than once
Not having fresh, healthy food in the house
Trash that has not been taken out or that has not been properly put in the trash can
Not going to doctor's appointments, club meetings, or other events on time or at all
Unpleasant smells in the house
Unexplained or more frequent bruising, cuts, and scrapes
Dents, scrapes, or other minor to moderate damage on a vehicle if your parent still drives
Sudden changes in mood or frequent mood swings
Increase in body odor
Not changing clothes
Wearing unseasonable clothing or clothing that does not match or is not appropriate together
Wearing wrinkled, stained, or damaged clothing, especially if this is outside of her usual personality
No longer wanting to participate in activities or hobbies that she once enjoyed
Not taking medication properly. This can be not taking it on time, taking the wrong dose, combining medications that should not be combined, or taking the wrong medication for her symptoms
More than one day's worth of mail in the mailbox
Clutter throughout the home
Changes in hygiene or grooming such as not bathing frequently enough, not brushing her teeth, not styling her hair, or suddenly stopping wearing makeup
Financial problems such as bounced checks, missed bill payments, or an overdrawn bank account
Difficulty standing up from a sitting position
Changes in her gait
Asking for help with tasks and activities that are familiar and not outside of her physical capabilities
Balance and mobility problems
Seeming forgetful
Slowed cognitive response
Confusion even in familiar situations
If you notice any of these issues, it may be time to hire a senior health care services provider to help your parent handle her personal needs. This can enable her to live comfortably, safely, and healthily as she ages in place.
If you or an aging loved one needs senior care services near Granite Bay, CA, remember Senior Home Care Services. Call us at (916) 514-7006 for more information.