Senior Care in Rancho Cordova CA
We each have a history—something for each person to leave behind for the loved ones who come after them.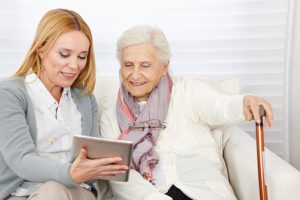 The month of May is set aside by personal historians as the month to generate awareness about the importance of personal history. The Association of Personal Historians (APH) officially recognizes this month and encourages people to do something to preserve their personal and/or family history.
Do you and the senior you're caring for celebrate the month in any way? It doesn't require a lot of effort or spending much money. And it can be as simple or involved as you'd like.
For instance, some people consider writing their memoirs—something that is time-consuming and often painstaking. And frankly, that can sometimes kill the whole project because the thought of putting together something that elaborate can seem overwhelming. Hopefully this will make it a bit easier.
An autobiography is the story of one's life; whereas memoirs are bits and pieces of some of the more salient points of someone's life and are by no means meant to be all-encompassing presentation of every aspect of one's life.
That said, even though May is quickly drawing to a close, you can still talk to your loved one about sharing with you some of their personal history and, together, you two work on it as a project together. What a great thing to leave for younger family members.
It can be as simple as recording on tape or writing out certain things in life that stood out to them: Perhaps their first job, high school or college graduation, wedding, birth of children, etc. At some point you can organize the various "chapters" of their life and put them in a chronological order, of sorts. But there should be some reminders of the events that helped shape the life of your aging family member. Otherwise, a good chunk of family history might die when they do.
And neither you nor your loved one need to worry if the history is not perfect. After all, whose life is perfect? Accuracy of details is more important than perfect English or grammar.
Another thing that often shuts down a personal history project, sometimes before it even starts, is procrastination. Everyone likes to think they always have tomorrow. But for some, tomorrow never comes. Wouldn't it be a shame to have a family member's history lost because they never took the time to memorialize it in some way?
Why not buy your loved one a tape recorder so that as thoughts come to them, they can simply repeat them into a microphone? Or if they'd rather type it out, let them put it on their computer. There are some blog sites that can be made private which act as journal-like sites.
Whichever way you decide to go, it's important to start doing a personal history now while memories are still intact and the urge to get going is there.
If you or an aging loved one needs

senior care in Rancho Cordova, CA

, remember Senior Home Care Services. Call us at (916) 514-7006 for more information.