Pneumonia is a leading cause of hospitalization and death among the elderly population. When your elderly loved one ages, her immune system declines in efficacy and she becomes more vulnerable to contracting respiratory problems. There are some precautions seniors can take that would lessen their risks of catching colds and developing other illnesses of the respiratory system.
Regular exercise and eating a healthy diet are definitely two things that can help protect against illness. Senior care services can help with this! The caregiver will encourage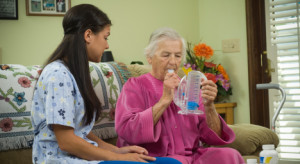 your loved one to exercise regularly and can take her to different senior exercise programs to give her some variety. Some examples are senior water aerobics, senior yoga, senior tai chi, and senior workout rooms. The caregiver can also make sure your loved one is eating an adequate amount of healthy foods each day.
Keeping a clean home free of excess dust and even using an air purifier can greatly increase the quality of the air inside your senior's home. Senior care services can help with this too, by keeping pollen and dust vacuumed up and making sure the filter on the air purifier is changed regularly. Harmful bacteria can build up on these filters and then be inadvertently spread throughout the home if they are not changed when necessary.
Do a little bit of research before purchasing the air purifier. They have different features. Some trap bacteria while others trap and then destroy it. The size of the room or home will determine the size of the air purifier to purchase.
Another way to avoid respiratory illness is to make sure your senior doesn't stay out in frigidly cold weather for very long; only if it's necessary to attend a doctor's visit or something like that. Otherwise, staying indoors is advised until the weather is more favorable. Of course, the senior adult can't just stay indoors all winter long. When they do go out, they should be adequately covered and insulated.
Most of a person's body heat is lost through the neck and extremities such as hands, feet and head. These areas of the body need special attention. Make sure winter clothing is not restrictive so it allows adequate circulation. Put it on in layers for extra warmth and convenience.
Your loved one should always be upright when eating. Eating while lying down can lead to food going down the windpipe and into the lungs. Even a little crumb of food inhaled into the lungs can cause a big respiratory problem for the elderly adult.
If you or an aging loved one needs senior care in the Roseville, CA area; remember there is "Senior Home Care Services" for all services needed. Call us at (916) 514-7006 for more information.