Alzheimer's can be a brutal disease. You may find your mom becomes anxious and stressed in crowds or other people's homes. This can make it hard to hold family gatherings. Here are a few tricks you can use to include her in holiday gatherings.
Aim for Her Best Hours.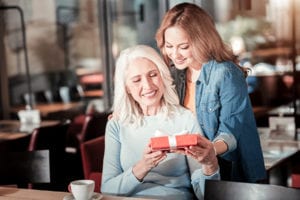 Men and women with Alzheimer's have hours during the day when they are most relaxed and alert. Arrange gatherings to align with your mom's best hours. If she gets most agitated after 5 p.m., skip festivities being held during those times.
Keep the Crowds and Noise to a Minimum.
If there's a family gathering with lots of younger children or infants, you need to decide if your mom would enjoy the noise. Some people with Alzheimer's are okay with shrill noises, but others get very agitated with screaming, crying, and other loud, sudden noises. If your mom will get agitated, it may not be an ideal gathering for her.
Have a Safe Space for a Quick Retreat.
If your mom wants to go, scope out the house for a quiet room where she can go to get away from crowds and noise if it gets to be too much. In her house, a quiet bedroom will work. In another person's home, ask them if there's a quiet den, screened in patio, or bathroom that is away from the gathering where your mom can go to calm down.
Talk to Her Doctor About Alcoholic Beverages.
Your mom may be taking Alzheimer's medications and antidepressants. If she is, she may not be able to have a glass of champagne or other alcoholic drink. Ask her doctor if it is okay or not. If it is, what is the limit? Get that information first. If she is going to insist on having wine with everyone else, have a bottle of non-alcoholic wine available. She doesn't even have to know that it's non-alcoholic.
Hold the Gathering at Her House.
She will likely be more comfortable in her own home than someone else's. See if people are willing to come to her house for a holiday gathering with family and friends. Your mom may not want to cook, but you can hire caterers to prepare foods or have everyone chip in and bring a dish or two for a potluck event.
It's important that your mom has support while aging at home. She'll need help with housework, meals, transportation, and personal care. Caregivers are trained to help Alzheimer's patients with grooming, shopping, scheduling, and medication reminders. That's just a small part of what caregivers can do to help.
If you or an aging loved one needs caregiver services in Davis, CA, remember Senior Home Care Services. Call us at (916) 514-7006 for more information.