Senior Care in Granite Bay CA
Introducing a pet into a senior's life opens the door to a multitude of benefits. Not only do pets enrich the quality of life and provide social interaction, they promote physical health of the elderly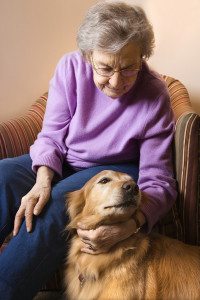 on many different levels. Lower blood pressure, less depression and stimulated mental functions are just a few of the many health benefits that a pet can bring to the elderly.
Buying a Pet – Things to Consider
There are many questions for caregivers to consider before making the commitment to pet ownership for seniors. How do they handle adapting to changes? Who will clean, feed and care for the pet? How will scheduling in pet care affect home care routine?  Are pet expenses within budget margins?  Use these types of questions as important guideposts to cover ground with family and friends in the decision making process. With this in mind, here are three best pet picks that are great for seniors:
1. Small Dogs
Smaller dog breeds like the French bulldog, the Maltese, and the Miniature Poodle are wonderful for seniors for their manageable size and companionship. They're small enough to live fine and healthy in an apartment and they don't need as much exercise as large dogs do. Some breeds are remarkably intelligent and will play with their owners for hours, and some are excellent watch dogs that add a layer of security to elderly care residencies.
2. Small to Medium Birds
Pet birds that are small to medium in size provide great company for seniors. They are social by nature and can be trained to whistle, sing, or even talk. Cockatiels, parakeets, canaries and finches are some species that demonstrate this. They are also easy to clean up after, as the bulk of bird cage cleanup is caught in a convenient tray that pulls out at the bottom. The smaller the bird, the easier it is to clean.
3. Beta Fish
Though often overlooked, the beta fish serves as a fine pet candidate for the elderly. Its relaxing effects are therapeutic and are documented to have made a positive effect on patients with ADHD and dementia-related illness.  Out of most fish species, beta fish are among the simplest to care for and are very easy to clean. They can be in bowls large and small to be admired at a variety of spaces in the home.
As a rule of thumb, pet adoption is the best option for seniors who will benefit from a pet, as most shelter animals are adults who are previously trained. In return, a homeless animal is received into a loving home by an owner who can devote their complete attention to the pet. By bonding together with the right pet, seniors can feel important and loved and find great fulfillment in life with their new feathered or furred friends.
If you or an aging loved one needs senior care services near Granite Bay, CA, remember Senior Home Care Services. Call us at (916) 514-7006 for more information.
Source
Sources of Inspiration:
The Pets for The Elderly Foundation
AgingCare.com