Senior Care in Lincoln CA
While they may have taught you how to drive and driven you thousands, perhaps millions of miles in their lives, there does come a point in every senior's life where the issue of whether they are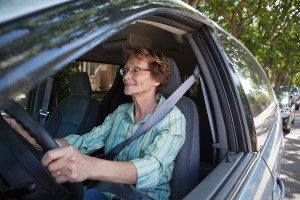 safe behind the wheel needs to be determined. Regardless of whether they are receiving senior care, this conversation is one best held with family and it will not be easy but it is important.
Many seniors equate their ability to drive and their independence and will respond poorly to what they perceive as a threat to their very identity.  So how do you know if it's becoming an issue, and how do you bring it up without making it unpleasant?
First of all, pay attention to them. Notice if they leave for what should be a short drive and it takes them more than would seem reasonable. One parent noticed that her mom was taking longer and longer to get to and from the grocery store, and it wasn't until she asked why that she learned her mother was getting lost going around the corner and relying on a compass she kept in the car to keep travelling west until she got home. Needless to say, that was not a healthy approach to driving and had she not asked, she might not have known it was going on.
Next, pay attention to the car. Are there more bumps and scrapes, noticeable damage? Find out what happened. Try not to assume they are at fault (they may not be) but to understand their perspective.
How is their physical condition? Are they experiencing tremors or other issue of physical control that might make it difficult for them to handle a vehicle in an emergency? What about eyesight and hearing? If they are unaware of what is going on around them, how can they be safe behind the wheel?
When there are signs that they are becoming unsafe on the road, it may be time to sit down with them. Have a heart to heart conversation about your fears, your love for them, and be ready to provide specific examples of times when you have been worried for themselves or others. Perhaps instead of simply cutting them off from driving, you can work out a solution so that they agree to only drive short distances, during the day, with someone else in the car with them. That way, they can preserve their dignity and you can keep them safe.
If you or an aging loved one needs senior care services near Lincoln, CA, remember Senior Home Care Services. Call us at (916) 514-7006 for more information.