Keep Things Organized for Elder Care Patients in Granite Bay, CA
Take a look around your client's home – how does the desk, file cabinet, and kitchen counter-tops look?  Is he or she relatively organized and clean, or is there a lot of mail and important documents laying around?  People of all ages find themselves unorganized at some point in their lives, including those who require elder care.  However, it is important to be organized and have certain documents and information readily available when needed.
January is National Get Organized Month.  The beginning of the new year is the perfect time to help yo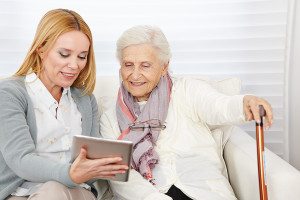 ur client organize his or her paperwork.  There are certain things that must be kept organized, especially with regard to elderly care clients. They are:
·         Medical records
·         Contact information
An elderly individual who relies on elder care is likely experiencing health related issues. If there is a medical emergency, the elder care provider should be able to access basic medical information to provide to emergency personnel.  If the client is unconscious or unable to communicate, it can make it difficult, or perhaps impossible, to find any information.
A file cabinet, or a plastic bin that holds hanging files, is a great way to help your client get organized.  Be aware that you are dealing with sensitive information and respecting your client's privacy is important.
Contact information should always be updated and stored at a central location.  Current information could be kept on the refrigerator or near the phone.
Being organized helps your client, his or her family, and yourself.
If you or an aging loved one needs elder care services near Granite Bay, CA, remember Senior Home Care Services. Call us at (916) 514-7006 for more information.